A London Carol

Season:
3
Episode:
15 (season)
64 (series)
Production Code:
313
Special Guest:
Michael Airington as Magic Mirror
Haley Tju as Young London
Writer:
Jeff Hodsen & Tim Bollock
Director:
Shelley Jensen
Originally Aired:
December 3, 2010
"A London Carol" is the 15th episode of the third season of The Suite Life on Deck. After London refuses to share any of her wealth with poor children at Christmas, her mirror takes her on a trip to visit her in Christmases past, present, and future to help her learn to be more generous. Meanwhile, Zack is forced to work at six in the morning on Christmas, and he must find a way to wake himself up in time.
Story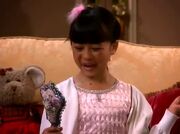 Cody and Bailey approach their friends to help out with their charity event, but London refuses to give anything. But when her magic mirror takes her to her past, present and future, she learns the importance of giving and being a good friend. Meanwhile, Zack can't wake up early, so Mr. Moseby threatened that if he will not wake up early for his job on Christmas morning, Zack will be fired. For these reasons, Zack creates an elaborate robot that operates as quickly as possible. At the end of the episode, London learns how lonely she will be if she does not give up her selfish ways, so she buys presents for the orphans and gives all of her friends presents: Cody gets a plane ticket home to visit his mom, Zack gets a jet-pack, Moseby gets a solid gold Tipton coffee mug, and Bailey gets her closet back.
!
This section of the article has one or more issues.
Trivia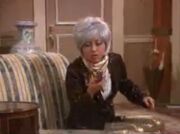 The title of this episode, "A London Carol", as well as the episode itself, are parodies of the Charles Dickens's 1843 book and subsequent play, A Christmas Carol.
When London's mirror takes her sixty years into the future, we see that Cody and Bailey have been happily married for fifty years. That implies that Cody and Bailey get back together, which they did in "Twister: Part 2".
When London is in the future, Maddie is not mentioned at all despite London saying she had nobody. This may imply that Maddie had the same experiences from London as Bailey did.
Sixty years in the future, it is revealed that Mr. Moseby has passed away, the mirror noting he is "managing that big hotel in the sky". However, London doesn't understand what her mirror means by that.
London becomes generous at the end of the episode, but in "The Play's the Thing" her selfish and materialistic nature returns.
Goofs
In the future, the S.S. Tipton is still in service, however in "Graduation on Deck", Mr. Tipton sold the ship and it was dismantled. However they could have rebuild the ship years later.
London's top solid gold bar was straight, but when Cody dropped the bar he put it back sideways. Later on, the bar is inexplicably straight again.
Every time London steps into her mirror into the past, present, and future, she wears pink heels, but when she is in her cabin, she is not wearing them.
In one scene, London puts a miniature silver Christmas tree decoration on her desk, which later disappears and reappears.
Community content is available under
CC-BY-SA
unless otherwise noted.