Alexa Nikolas

Gender:
Female
Date of birth:
April 4, 1992 (aged 28)
Place of birth:
Chicago, Illinois, U.S.
Role(s):
Tiffany
Other Notable Projects:
Zoey 101
Alexa Helen Nikolas (born April 4, 1992) is an American actress. Her most notable role to date is that of Nicole Bristow on the Nickelodeon TV show Zoey 101.
Early life
Nikolas was born in Chicago, Illinois. She is of Greek descent on her mother's side of the family, and from New Zealand on her father's side.
Acting career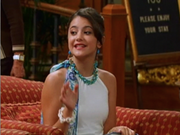 She portrayed the role of Nicole Bristow in the series of Nickelodeon the Zoey 101. She co-starred in the film along side Jamie Lynn Spears and Kristin Herrera who were in the first season as well as Victoria Justice who came into the picture in the second season. After serving in the show for a while, she found herself been kicked out of the show by Jamie Lynn. There were speculations about her been kicked off in the entire nation but it came to be noted later that her parents had removed her form the school that she was in and transferred her to a girls' school. But this was not the only reason, she fought with her co-actor and one of them had to be removed, She was the one who was removed the series. She appeared on Hidden Hills regularly and also on the 2005 mini- series Revelations. She also guest-starred in several more shows, most notably The Suite Life of Zack and Cody, Judging Amy, and Heroes. At one time she appeared at the Vanessa Hudgen's music video called come back to me. Nikolas at one time had supporting roles in the films Motocross Kids and Tiptoes. A year later she was offered a role on the Disney Channel where she could star as Alex Russo. Nicolas turned down the offer which had to be given to another person. Due to her impressive acting and good movies released about her she was a major character in Children of the Corn a movie that was recently released in the year 2009.
Filmography
Year
Film/TV
Role
Other Notes
1999
P.U.N.K.S.
Jenna Bygayly
Unknown
The Love Boat: The Next Wave
Little Girl #1
Season 2, Episode 16:Trances of a Lifetime
2000
That's Life
Lydia (age 7)
4 episodes
2001
Charmed
Little Girl
Season 3, Episode 10: We All Scream for Ice Cream
Zoolander
Story Hour Girl
Minor Role
The King of Queens
Young Carrie
Season 4, Episode 9: Veiled Threat
2002
Hidden Hills
Emily Barber
17 episodes Main Role
Ted Bundy
"I'm Ted" Kid
Minor Role
Even Stevens
Young Ren
Season 3, Episode 5: Band on the Roof
2003
Tiptoes
Susan Barry
Film Supporting Role
2004
Without a Trace
Emily Levine
Season 2, Episode 15: Wannabe
Motocross Kids
Katie
Supporting Role; Nominated Young Artist Award: Best Performance in a Feature Film - Young Ensemble Cast
2005
ER
Megan Nesbitt
Season 11, Episode 20: You Are Here
Revelations
Lucinda 'Lucy' Massey
6 episodes; Supporting Role
Judging Amy
Shelly Cecil
Season 6, Episode 14: Happy Borthday
2005–2006
Zoey 101
Nicole Bristow
Series Regular; Season's 1-2, 26 episodes Nominated for 2 Young Artist Awards: Best Young Ensemble Performance in a TV Series (Comedy or Drama) in 2006 and 2007 Won both
2007
Cold Case
Madison Reed
Season 4, Episode 14: 8:03 AM
The Suite Life of Zack and Cody
Tiffany
2 episodes; Season 2, Episode 33: Miniature Golf, Season 3, Episode 5: Who's the Boss?
2008
CSI: Miami
Mallary Harding
Season 6, Episode 17: To Kill a Predator
Ghost Whisperer
Caitlin Mahoney
Season 4, Episode 7: Threshold
2009
Children of the Corn
Ruth
Film; Main Role
Supernatural
Kate Carter
Season 4, Episode 11: Family Remains
Heroes
Young Angela Shaw
Notable Guest Appearance; Season 3, Episode 23: 1961
Drop Dead Diva
Hannah Porter
Season 1, Episode 7: The Magic Bullet
Raising the Bar
Caitlin
Season 2, Episode 13: Maybe, Baby
2010
Criminal Minds
Jane McBride
Season 5, Episode 18: The Fight
2011
Into the Darkness
Elsa
pre-production
Awards
Young Artist Awards
2007 Best Young Ensemble Performance in a TV Series, for Zoey 101 - Won
2006 Best Young Ensemble Performance in a TV Series, for Zoey 101 - Won
2005 Best Performance in a Feature Film - Young Ensemble Cast, for Motocross Kids - Nominated
External links
Community content is available under
CC-BY-SA
unless otherwise noted.