Bailey Pickett (Debby Ryan) is one of the main characters of The Suite Life Series. She is a smart, kindhearted girl from a small farm town in Kettlecorn, Kansas. Because she had lived in a small town her whole life, Bailey enrolls in Seven Seas High to go out and explore the world. She even went to the lengths of disguising herself as a boy to be able to go to school on the ship. After everyone found out she was a girl, she became roommates with London Tipton. Their personalities clash sometimes (Bailey being born in a rather poor rural environment and London growing up in the lap of luxury), yet they are good friends. Bailey has also made friends with Woody Marcus, and Maya made acquaintances with Zack and had a romantic relationship with Cody, until "Breakup in Paris", when they break up due to a misunderstanding. Throughout the third season, Cody and Bailey have implied they still have feelings for each other. Cody revealed he has never stopped loving Bailey in the episode "Party On". Bailey also says she doesn't think she's really over Cody iand attempted to get him back in the episode "My Sister's Keeper". In "A London Carol", it's revealed Bailey will be happily married to Cody sixty years in the future, celebrating their fiftieth wedding anniversary on the S.S. Tipton (Confirming Cody and Bailey will eventually get back together.).
Character Information
She is described as nice, smart, fun and loving. Bailey is always looking out for other people's feelings, which shows how sensitive she is.
Relationships
Trivia
Aside from speaking English, Bailey also speaks Pig Latin, Japanese, French, and Italian.
She didn't like being confined in Kettlecorn, so when she was born, she crawled all the way to the county line, & the civilians caught her (This was in the rough draft script of "The Suite Life Sets Sail").
She knows in the middle of Season 1 that Cody likes her.
She directed herself out of a Kettlecorn corn field using just the stars and the distant smell of cow patties.
In the episode "Model Behavior", at the party, it is shown that she was wearing a bikini under her outfit.
She owns a map of the world, and colors in countries where London insults her.
She owns Li'l Little (or Marcus Little) bedsheets (though she said they could also be Gary Coleman).
Her home has faced tons of disasters.
She once put on a play for the mice in her barn. It was good until her family's cat ate their star.
Bailey wears more modern clothes toward the end of Season 2.
She is usually not in trouble with Mr. Moseby.
She secretly thinks London is smart somewhere inside.
In I Brake For Whales, Bailey adopted a baby whale, naming him Cody Blowholey after Cody.
She is the second character on the show to disguise themselves as the opposite sex.
In Rat Tale, Zack states that Bailey has an overbite, to which Cody defensively replys by saying that she had to use chicken wire for braces because her family couldn't afford real ones.
In Computer Date, Cody tells Arwin he will never be able find another girl to relate to on an emotional and intellectaul level like he did with Bailey.
In Trouble in Tokyo, Bailey tells Woody she is Kettlecorn's three-time Junior Miss Steer Wrestling champion.
In My Sister's Keeper, it is revealed she is still in love with Cody and wants him back but fears he has finally moved on with his life.
.
Non - Appearences
Bailey, so far has missed 9 episodes of Season 1, 2 and 3 of The Suite Life on Deck.
Season 1:
Season 2:
Season 3:
Gallery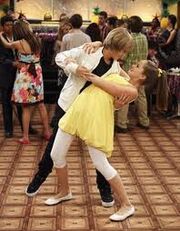 Family
Grandma (unseen) – Bailey's grandmother. She calls Bailey her piggly-wiggly and then both of them would snort together. In "Boo You", London said that the skirt "Grandma" made for Bailey was a tablecloth, also in episode "Mulch Ado About Nothing", Cody says to the fake Grandmother that she calls her "Bunnykins" and she makes great fudge.
Mrs. Pickett (Ginette Rhodes) – Bailey's mother is seen dropping Bailey off on the first day and appears over-protective.
Myrtle (unseen) – Bailey's aunt who she sends a recipe to. Myrtle has a spider web which has recipes and notes posted on it.
Abner (unseen) – Bailey's crazy uncle who talks to himself after he was struck by lightning, who is mentioned during London's webisode.
Clem (unseen) – A great-uncle who searched for Bigfoot, only to find out that he didn't exist, who was mentioned in "Sea Monster Mash".
Cletus (unseen) – A cousin who owns an alligator farm in Miami. Bailey disembarked the S.S. Tipton so she could spend spring break on his farm wrestling gators, but she had to return to the ship early due to the fact that Cletus drank polluted water and she stated sadly that every gator was donated to Lizard World, an allusion to Gatorland.
Dobbs (unseen) - Bailey's unlucky uncle who was kicked by a mule, struck by lightning and ran over by a tractor.
Nine sisters (unseen) – Bailey tells London that she has six big sisters and three little ones when London says she would be the big sister she never had, to which London responds "Wow, your mom needs a hobby".
Community content is available under
CC-BY-SA
unless otherwise noted.