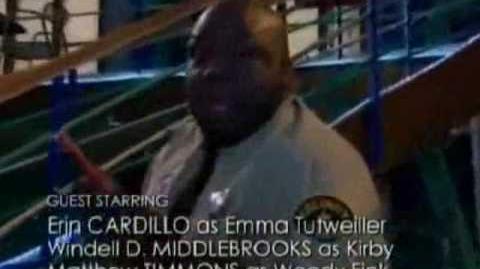 Boat Cops is the show that was originally aired on the S.S. Tipton's private TV channel starring the ship's security guard, Kirby Morris. Kirby told the kids that the show told people to think twice about stealing on the ship, though the show was canceled because someone stole his camera.
The show later aired again, replacing Seven Seas News.
The show also had its own action figure. By pushing something, the toy can say numerous things that the real Kirby would say.
It was similar to the original song of "Bad Boys" made by Inner Circle.
Theme Lyrics
Big boy, big boy, coming after you, coming after you when my sandwich is through, big boy!'
Episodes
The Buffet Bandit tries to steal food from the buffet. Kirby catches him easily because as Woody said that it's difficult to run with lamb meat in pants.
Woody tries to run away with king crab legs but Kirby stops him.
Zack steals Kirby's clothes, and Kirby chases him.
Cody and Bailey are caught secretly kissing.
Trivia
Boat Cops was most likely inspired by the real TV show Cops.
Community content is available under
CC-BY-SA
unless otherwise noted.