I've gotta' clean it up!!

This article needs to be tidied up to meet The Suite Life Wiki's standards of quality.
You can help clean up by reworking the article in general.
Can You Dig It?

Season:
2
Episode:
18 (season)
39 (series)
Production Code:
223
Guest Stars:
Erin Cardillo as Emma Tutweiller
Alex Cambert as Luis
Lesli Margherita as Isabel
Absent:
Phill Lewis as Mr. Moseby
Writer:
Adam Lapidus, Jeny Quine
Director:
Phill Lewis
Originally Aired:
February 12, 2010
"Can You Dig It?" is the 18th episode of the second season of The Suite Life on Deck.
Story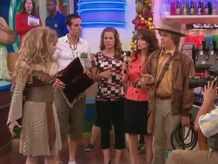 While docked in South America, the gang takes a tour of Princess Zaria's tomb. In the beginning, Marcus leaves to go to the bathroom, not to be seen again until the end of the episode. Zack finds the Crown of Zaria and Cody is angry.
Taking the crown causes Zaria's spirit to be released from her statue and possess Bailey. Zack is being interviewed by Tomb Digest, a fictional magazine, while Bailey, possessed by Zaria's spirit, appears on the sky deck. Cody, unaware that Zaria's spirit has possessed Bailey, is surprised to see her new appearance. He gets steamed about Zack taking credit for his work and basically unearthing (stealing) Zaria's crown. Zaria, while possessing Bailey, supports Cody by chasing and attacking Zack trying to get her crown back. She buries Zack in an ant hill to be eaten as punishment, but Cody steals Zaria's crown and puts it on her statue causing her spirit to leave Bailey and re-enter her statue. To due so, Cody begins talking about all the things he loves about Bailey. Zack admits it was because of Cody he found the crown. London (oblivious to what just happened) is soon possessed. In the end, Emma is on a date with the tour guide and Zack tells her Marcus is missing, and Emma says if he goes away she'll give him money and a B. Marcus is shown to be in a giant spider web.
Trivia
Tomb Digest is a parody of Reader's Digest.
This is the first episode of The Suite Life On Deck to make use of the supernatural, and the second in The Suite Life series to do so.
Goofs
Bailey said Zaria never wore her crown, but Zaria said she wore her crown to proms.
When London asks Bailey if she has a cold you can hear Bailey sigh in her own voice.
London only said to try the juice bar, not revealing how to get there. It's possible that Zaria was able to get information from Bailey's head, though it would contradict her asking who Zack was.
| | |
| --- | --- |
| | This article is a stub. You can help The Suite Life Wiki by expanding it. |