The only thing missing is a bearded lady.

This article's missing some things.
You can help expand by adding: general content.
That's it... hold that pose!

This article could use some images to help represent its content.
Dudley is Esteban's pet chicken. He gets offended when someone mentions eating chicken. He only appears in two episodes, "Commercial Breaks" and "Mother of the Groom".
Personality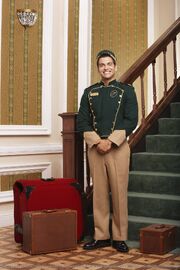 He is smart for a chicken as he can play poker (with cookies in a wrapper) and know when he's insulted. He is also easily offended when anyone mentions anything about meat (mostly chicken itself).