This article is about the third season finale of The Suite Life on Deck. You may be looking for the similarly-titled episode from The Suite Life of Zack & Cody.
"Graduation on Deck" (working title, according to script; official title unknown) is an upcoming episode of third season of The Suite Life on Deck. Zack, Cody, Bailey, London, Maya, Addison, and Woody will graduate from Seven Seas High in this episode.
Story
The whole senior class—Zack, Cody, London, Bailey, Woody, Maya, and Addison—graduate from Seven Seas High. Mr. Tipton sells the S.S. Tipton, and will dock into New York, where everyone plans to leave because Seven Seas High is closing. Meanwhile, Zack wants to break up with Maya, believing that a long distance relationship will not survive. Also, Cody and Bailey await the arrive from their certificates, telling if they made it into Yale or not and Cody is tempted to open his acceptance letter before Bailey sees hers, as they plan to open them together. Carey, Kurt, and Arwin arrive on the ship for the boys' graduation.
!
This section of the article is a stub. You can help by expanding it.
Media
| "Graduation on Deck" sneak peeks | "Graduation on Deck" promotion |
| --- | --- |
| 400px | 400px |
Trivia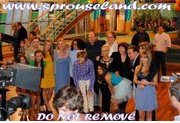 Cody and Bailey are co-Valedictorians.
From the episode wrap pictures, it is known Addison, Maya, and Arwin are in the episode.
It's confirmed that Kurt (Robert Torti) and Carey Martin (Kim Rhodes) will return for the episode. Based on the wrap pictures, it's implied that Bailey and Maya finally meet Carey and Kurt.
Three clips of this episode were shown on Saturday, April 2 during a special presentation of "The Suite Life Movie". Based on this special presentation, Fan Picked Suite Life and a promo for the episode, it may actually be titled "The Suite Life Graduation".
During the first episode, "The Suite Life Sets Sail", Woody says to Cody that he brought one pair of underwear. One of the first sneak peaks shows Cody and Woody packing, and Woody finds that he brought two pairs of underwear.
This episode is the series finale of The Suite Life on Deck.
Rumors
It's rumored Cody and Bailey head off to Yale together. Because of this, it's also rumored that Zack and Cody part ways.
Based on the clips shown in the special presentation, Zack and Maya may break up and the ship is sold.
It is rumored that Cody doesn't get into Yale but Bailey does and that Bailey and Cody share a kiss.
It is rumored that Mr. Moseby proposes to Ms. Tutweiller.
Notes and references
Gallery
Main article: Graduation on Deck/Gallery
Community content is available under
CC-BY-SA
unless otherwise noted.