This painting has been hanging in the Tipton for nearly a hundred years.
This article has a gallery to help represent its content. To view it, visit Lip Synchin' in the Rain/Gallery.
This article is about the episode of The Suite Life of Zack & Cody. You may be looking for the DVD.

Every single Christmas, I was the wise man who brought myrrh.

—Maddie
"Lip Synchin' in the Rain" is the 9th episode of the third season of The Suite Life of Zack & Cody. Maddie tells Cody that the play in their high school will be High School Musical. With Zack working backstage, Maddie, London, Cody, and Antonio all try out for parts in the school play. Cody lands a starring role as Troy Bolton, London is selected to play Sharpay Evans, and Antonio plays Ryan Evans. To her dismay, Maddie lands a role as London's understudy, simply because London's dad financed the drama teacher's Broadway musical, Floss.
Story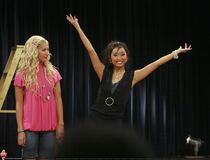 Cheevers High School is putting on a school play. When Cody and Zack arrive home from school, Cody immediately shares his excitement, hoping the play will be Agamemnon. When Maddie rushes in, she announces that the subject of the play has been decided: High School Musical.
Because Zack was forced to serve detention after breaking a blackboard, he ends up backstage at the auditions. Cody sings "When I Was a Lad" by Gilbert and Sullivan, which impresses Mr. Blaine, the drama teacher. Maddie sings "Bop to the Top", a song from High School Musical, and wows Mr. Blaine as well. Antonio, the new student, chose to sing "Floss", the main theme from Mr. Blaine's Broadway production. London, on the other hand, sings "London Tipton is Really Great!" completely out of tune, to Mr. Blaine's horror.
After the auditions, the casting list was posted on their school's website. Cody was Troy Bolton, Antonio was Ryan Evans, and London was cast as Sharpay. Maddie, enraged, finds out that she is cast as an understudy for London. When Maddie asks Antonio why London was cast—despite being unable to sing, dance, or act—he replies by telling her that London's father financed Mr. Blaine's Broadway musical.
During rehearsal, London practices with Antonio for "Bop to the Top", but her singing and dancing are horrendous, and Mr. Blaine recommends lessons. She astutely hires Carey to teach her to sing, and Mr. Moseby to help her learn to dance. Despite the lessons, however, London is still a dancing clutz, and cannot even master a musical scale.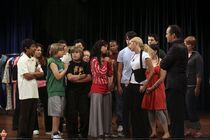 Desperate and running out of time, the group decides that London cannot sing, but Mr. Blaine refuses to take her from the play due to the fact that Mr. Tipton will be there to see the play. Instead, he decides to have Maddie lip sync for London, all while hidden backstage. Reluctantly, pressured by the entire cast, Maddie accepts the request.
Despite Carey and Mr. Moseby expecting disaster from London's acting, they see her singing in perfect pitch (though she seems to have nailed down the dancing herself). The crowd is stunned by "London's" talent and Mr. Blaine praises her and not Maddie, much to Zack's disgust. Wanting the world to see that it's all just a façade and that Maddie is the real star, Zack gets Cody to help him lower the backstage curtain, allowing the audience to see that Maddie is the one singing. Enraged, Antonio storms off the stage mid-song, leaving London to fend for herself.
Maddie puts on Antonio's hat and steps up, telling London to sing alongside her. London eventually does, and the two finish the song together—while Zack and Cody prevent Antonio from interfering. After the song, because Maddie and London were able to sing together, they receive a standing ovation; Zack receives an air-kiss from Maddie in return.

Media
High School Musical
"Get'cha Head in the Game"
"What I've Been Looking For"
Other
"When I Was a Lad" (Gilbert & Sullivan), during Cody's audition
"Floss", during Antonio's audition
"London Tipton Is Really Great!", during London's audition
Quotes
Cody: What role you hoping to get?

Maddie: Sharpay. You know, a lot of people tell me I look just like the girl who plays her.
Cody: Really? I don't see it.
Maddie: Well, she has people who help her look better.
Zack: So Maddie, who are you going to audition for?

Maddie: Hello!? Sharpay! People say I look just like her!
Zack: Really? I don't see it.
Mr. Blaine: That was really great.

Maddie: Everybody says I look exactly like Sharpay?
Mr. Blaine: Really, I don't see it.
Maddie: I never got a lead role when I went to Our Lady of Perpetual Sorrow. Every single Christmas, I was the wise man who brought myrrh.

Zack: What is myrrh anyway?
Maddie: I don't even know, okay? The point is, I want to get a part where I don't have to wear a beard.
Cody: Zack, what are you doing here? I thought you didn't like theater.

Zack: Well, you see I bet Bob my golf ball could break a blackboard...
Cody: And?
Zack: I won! So for my detention, I had to work backstage or clean toilets. (hesitates) I flipped a coin.
London: Carey, my drama teacher thinks I could need a teensy-weensy bit of help with my singing.

Carey: Ohh, I'll be happy to help.
London: Thanks, do you know any good singers?
Carey: London, I happen to be a professional singer. I sing at the lounge every night.
London: I thought that was karaoke and you hogged the mic.
Mr. Blaine: You know, people say you kinda look like Zac Efron.

Maddie: And I don't look like Ashley Tisdale?! People are all crazy.
Mr. Blaine: Okay, Maddie, are you ready to bop to the top? 'cause we're all in this together.

Maddie: Okay, you're pushing it to the limit.
Trivia
The title, "Lip Synchin' in the Rain", is an allusion to the musical, movie and song, Singin' in the Rain.
An ongoing joke of this episode is that Maddie says that she looks just like Sharpay. Ashley Tisdale, who portrays Maddie Fitzpatrick, plays Sharpay Evans in the movie but no one seems to notices or cares.
During the song "Floss," which the cast sings together at the end, the cast leaves two-by-two. This is the opposite of the song at the end of High School Musical, "We're All in This Together", when the cast joins two-by-two.
When Mr. Blaine says, "Maddie, are you ready to bop to the top, because remember, we're all in this together!", he mentions both "Bop to the Top" and "We're All In This Together", two High School Musical songs (the former one of Ashley's from the films and the other the series' signature song). Maddie replies, "Okay, you're pushin' it to the limit," referencing a song by Corbin Bleu, the voice of Chad Danforth (though the song Maddie referenced, "Push it to the Limit", is actually from Jump In, where Corbin was the lead actor instead of Zac Efron)..
Mr. Blaine didn't want to pick Maddie because she was too nice. The same thing happened during auditions for the High School Musical film; the director, Kenny Ortega didn't want to pick Ashley Tisdale because of her good girl image on The Suite Life of Zack & Cody. Ashley Tisdale had to watch Mean Girls to get the part.
Cody's audition song is "When I Was a Lad" from H.M.S. Pinafore by W. S. Gilbert and Arthur Sullivan.
Carey was seen holding her stomach in the first scene. This was because Kim Rhodes was pregnant at the time.
Cody Martin is usually mistaken for Zac Efron on the High School Musical series and it is true.
It is unknown how Maddie transferred to Cheevers High School.
When Carey was teaching London how to sing, she comes up with ways to remember the musical scales such as Do for money, Re Mi, Yay Me, Fa So, If something is far I say so, because I have a private jet, La, Law is something you get to break if you're rich, Ti, My favorite vowel, Do, Yay more money. It's a reference to the song Do-Re-Mi from the Broadway musical and 1964 movie The Sound of Music when Maria was teaching the Von Trapp kids how to sing.
Goofs
Due to this episode being filmed later on, there are some continuity errors, such as London, Maddie, Zack, and Cody being high school students prior to starting high school, Maddie suddenly being back from Antarctica, and London having her theme song.
Gallery
Main article: Lip Synchin' in the Rain/Gallery
Community content is available under
CC-BY-SA
unless otherwise noted.