This painting has been hanging in the Tipton for nearly a hundred years.
This article has a gallery to help represent its content. To view it, visit London Tipton/Gallery.
"Yay me! (claps her hands)" [1]
London Tipton

General Information
Full Name:
London Leah Tipton
Nickname:
Princess
Londy
Lon
Airhead Heiress
London Dear
Residence:
Suite 2500, Tipton Hotel [SLOZAC]
Room 8•302, S.S. Tipton [SLOD]
Hometown:
Miami, Florida
Date of Birth:
October 6, 1990
Age:
Season 1 15-16
Season 2 16
Season 3 16-17
[SLOZAC]
Season 1 17-18
Season 2 18-19
Season 3 19-20
[SLOD]
Currently 32
Birth Sign:
Libra
Status:
Alive
Biological Information
Gender:
Female
Eye Color:
Dark Brown
Hair Color:
Dark Brown
Height:
5′2″
Relationships
Mother:
Li
Brandi Tipton(former step-mother)
Father:
Wilfred Tipton
Sisters:
Yolonda (former step-sister)
Grandparents:
Khun Yai (maternal grandmother)
Ex-Boyfriend:
Todd St. Mark
Lance
Joe
Armando
Friends:
Maddie Fitzpatrick (best friend)
Bailey Pickett (best friend)
Ivana (best friend)
Marcus Little (close friend)
Zack Martin (close friend)
Cody Martin (close friend)
Woody Fink (close friend)
Maya Bennett (close friend)
Marion Moseby (close friend/father-figure)
Carey Martin (close friend)
Arwin Hochauser (close friend)
Esteban Ramírez (close friend)
Emma Tutweiller
Mary-Margaret
Lance
Max
Nia Moseby
Haley
Barbara Brownstein
Corrie
Tiffany
Francesca Grubman
Chelsea Brimmer


Portia Tanenbomb


Melanie Dela Mosses
Max Russo
Raven Baxter
Nemesis:
Zack Martin (formerly)
Ilsa Schicklgrubermeiger
Alyssa
Additional Information
School:
Our Lady of Perpetual Sorrow (formerly; expelled)
Cheevers High School (formerly)
Seven Seas High (formerly; graduated)
Talents:
Shopping
Strengths:
Shopping
Weaknesses:
Academics
Likes:
money, being rich, shopping, diamonds, gold, Ivana (her dog)
Dislikes:
academics, working, being poor, Bailey (sometimes), Maddie (sometimes)
Series Information
Portrayed by:
Brenda Song
First Appearance:
Hotel Hangout [SLOZAC]
The Suite Life Sets Sail [SLOD]
Last Appearance:
Mr. Tipton Comes to Visit [SLOZAC]
Graduation on Deck [SLOD]
Season(s):
S1 • S2 • S3 [SLOZAC]
S1 • S2 • S3 [SLOD]
London Leah Tipton is one of the main characters of The Suite Life series. She is the only daughter of Wilfred Tipton, the owner of The Tipton Industries. London is good friends with Maddie, Bailey, Zack, Marcus, Cody, Woody, Maya, Corrie, Francesca, Chelsea, Max, Tiffany, Raven and Melanie.
Origin
Early Life
London was born on October 6, 1990 to Wilfred Tipton and his 3rd wife who is unseen throughout the series. It is unknown where she was born, but as seen on her sash in Beauty and the Fleeced, she considers Dubai, Boston, Paris, and Milan as her hometown(s). Her mother is a Thai-American and her father is Caucasian. London switches between her birth mother and her father, and never really had any quality family time with them. Since she was a young child, London has always worn designer clothing including designer diapers, made by Arturo Vitali. She has a lot of interest in fashion (as mentioned in That's So Suite Life of Hannah Montana). London looked up to her father but he never was really there for her. When she moved into the Tipton Hotel, she was taken care of by Mr. Moseby, whom she bonded with throughout the course of the series. London had a tough childhood because her father was always away on business and constantly marrying different women (such as Brandi Tipton). She once mentioned in Marriage 101 that her father has married 12 times. In the episode Ala-ka-Scram!, her father married the magician's assistant. When she was a little child, her father did not attend any of London's plays in her childhood years because he was supposedly very busy. London told Maddie in Lip Synchin' in the Rain that her father did not bother attending any of her school performances (such as Itsy Bitsy Spider).
Later Life
When she was growing, she started to cover the emptiness her father created when she discovered shopping. As Maddie discovered in Kisses & Basketball, London buys things she doesn't need to cover the emptiness in her heart. Her habit doesn't noticeably lessen and is never mentioned again. Despite her wealth and outward happiness, she is miserable, because her father never appeared when she needed him, such as when the Tipton family lose all of their money in the episode Poor Little Rich Girl, and during the father-daughter dance at London's school in the episode The Prince & The Plunger.
At the age of 15, she met Maddie Fitzpatrick, who eventually became her best friend. London enrolled at Maddie's Catholic school, Our Lady of Perpetual Sorrow after her father tried to attend Parents Night at London's old school and they had never heard of her. Later on, London was expelled because she did not attend her classes. When her father heard about her expulsion, he sent her to the Seven Seas High, a high school program at the S.S. Tipton, because she would not be able escape to another place while on a ship. London often complains about Seven Seas High and how much she "hate[s] this stupid sea-school."
The Suite Life on Deck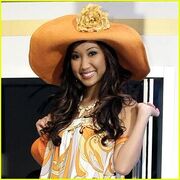 At the start of The Suite Life Sets Sail, she believed she was boarding the S.S. Tipton for a vacation, but when she was already in the ship, Moseby told her her father put her in the Seven Seas High because she always escaped from her classes. Also at the end of The Suite Life Sets Sail, she escaped from the S.S. Tipton and went to the Parrot Island. Also, in one of her show episodes, Stupid Sea School, she said she was angry with her father only for putting her in the ship.
!
This section of the article is a stub. You can help by expanding it.
The Suite Life Movie
London eats dolphin food, giving her the ability to talk to animals. She hears from some crabs about their escape, and they make her promise not to tell. Bailey asks "What escape?" when London makes the promise, but London replies with "If I told you, I wouldn't NOT be telling you". The crabs escape. Then she hears from dolphins that Zack and Cody are part of the Gemini project now, so she joins in on a rescue. She helps her friends save the twins and stop the merge from happening.
Personality
London has a very unique personality; she is selfish most of the time. However she often chooses to be more heartwarming and kind, particularly to her closer friends. Growing up with money running in her family and being spoiled rotten, London can be very greedy, even to the point where she can receive thousands of dollars or bars of gold for her allowance. She can be very critical and often makes fun of Maddie or Bailey. But this greed and selfishness was the result of the lack of a true parent, on London's seventh Christmas, her father failed to show up at the Hotel Tipton after his promise to her to appear. This failure to appear at the hotel made London change from her nicer self to a meaner side. She also lacks a true mother in her life and according to London, her father has been married eight times (though likely not counting any marriages before she was born).
London's work ethic is sorely lacking. She disregards school and prefers to take credit for others' work and hates doing work, even if she's getting paid. She does absolutely everything to get out of chores, classes and her various jobs. However, when she worked with Woody and Zack on a class project, she stated that she enjoys being self-sufficient.
Education
As a stereotype of a rich heiress, London, most of the time, is as sharp as a spoon, though her exact intelligence seems to vary between episodes. She got kicked out of every private school in Boston, as seen in "First Day of High School" so she attends cheevers high. Miss Tutweiller helps London with "shining stars" (a.k.a. her speech in It's All Greek To Me) but are actually stickers (in her fantasy dream, she played Aphrodite, and Miss Tutweiller played Athena and Athena gave her stars from Orion's belt) but like in her old school, she does not perform well academically, and has apparently been held back since she attends class with students younger than her. In addition, London doesn't know how to read or write, due to this life of academic failure and neglect. She does a science project with Zack and Woody in Sea Monster Mash but has great reluctance to do it since she has never done her own projects before and due to her illiteracy.
London has shown signs of great hidden intellect, though ironically she hates to do anything with it. She is great at calligraphy (though she vows never to use it again when she gets her phone back) and is an excellent chess player, but finds the game boring. She is also shown to have great craftsmanship, as seen in "Cruisin" for a "Bruisin" when she is fixing the broken ship in the bottle. It seems that she does not have a lack of intelligence so much as a lack of effort to learn. Mr. Moseby tried hard to teach her the alphabet for 14 years, which she still calls her "ABDs". It's also been said by some fans that she gets dumber with every season. London hardly ever does homework. The only notable time she did is when it was actually lines of lipstick. She got a "D" because Miss Tutweiller liked the color. In one attempt at getting out of doing work, she tried to bribe Miss Tutweiller by stapling a $100 bill to each page of her science project. She finally graduates high school in Graduation on Deck. Since she repeated high school a few times, she might be older than what her general given age is (so likely not 17-18, but for example 20). Despite her low work ethic, she is shown to be able to be very deceptive. In Lost at Sea she tricked everybody into believing she was under a lot of stress so she didn't have to work.
Appearance
London cares about her appearance and tries very hard to wear clothes which are considered beautiful and trendy. She exhibits this behavior enough that, in an episode where Maddie tricks her into thinking a dress is made by someone famous, she freaks out after wearing it. Her motto is wear it a day, throw it away. Because of her constant need to wear the newest thing, she has several locations that house her clothes, including a several-story closet, a second room, a lifeboat, and others.
Catchphrases
"Yay me!"
"It's little me, back from Paris."
"Stupid sea school!"
!
This section of the article is a stub. You can help by expanding it.
Relationships
Family
Friends
Romantic interests
!
This section of the article has one or more issues.
list isn't complete
each character needs a short description
grammar, etc. was taken from an old page and needs to be fixed up
Gallery
Trivia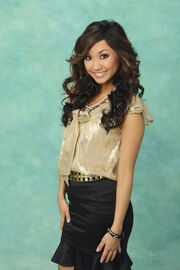 ↑

Yay Me! London when really happy