Miley Cyrus

Gender:
Female
Date of birth:
November 23, 1992 (aged 27)
Place of birth:
Nashville, Tennesse
Role(s):
Hannah Montana
Other Notable Projects:
Hannah Montana
The Last Song
Miley Ray Cyrus (born Destiny Hope Cyrus; November 23, 1992) is an American pop singer, songwriter and television and film actress who rose to fame after starring as the title character in the Disney Channel series Hannah Montana. Following the success of Hannah Montana, a soundtrack CD was released in October 2006 featuring Cyrus on eight songs from the show. Cyrus's solo music career began with the release of her debut album, Meet Miley Cyrus on June 23, 2007, which included her first top ten single, "See You Again". Cyrus's second album, Breakout, released on July 22, 2008, was her first album independent of the Hannah Montana franchise. Both albums debuted at #1 on the Billboard 200. Cyrus's first extended play, The Time of Our Lives, was released on August 28, 2009. The lead single from the EP, "Party in the U.S.A.", became Cyrus's highest charting and Hollywood Records's fastest selling single, reaching number two in the Billboard Hot 100 and the top ten in various nations. In 2008, Cyrus appeared in the Hannah Montana & Miley Cyrus: Best of Both Worlds Concert film. Cyrus also starred in Bolt in 2008, and recorded "I Thought I Lost You" for the soundtrack, earning her a Golden Globe nomination. She starred in the film spin-off of Hannah Montana, titled Hannah Montana: The Movie, which was released on April 10, 2009. In 2008, Cyrus was listed in Time magazine's 100 Most Influential People in The World. Forbes magazine ranked her #35 on the "Celebrity 100" list for earning $25 million in 2008. Her rank improved to #29 in 2009.
Early life
Cyrus was born in Nashville, Tennessee as Destiny Hope Cyrus on November 23, 1992, to parents Leticia "Tish" (née Finley) and country singer Billy Ray Cyrus. Cyrus has five siblings. Her elder siblings Trace and Brandi Cyrus are Tish's children from a previous relationship, whom Billy Ray adopted when they were very young. Trace is a vocalist and guitarist for the electronic pop band Metro Station, while Brandi has played guitar for Cyrus's concerts and formed a band with The Secret Life of the American Teenager star Megan Park. Cyrus also has an older half-brother, Christopher Cody, from her father's previous relationship, as well as a younger brother, Braison, and a younger sister, Noah, who is also an actress. She is the granddaughter of Democratic politician Ron Cyrus. Cyrus chose the name "Ronnie" for her character in the 2010 film The Last Song in honor of her grandfather. Cyrus's parents named her Destiny Hope because they believed that she would accomplish great things. She was nicknamed "Smiley", later shortened to "Miley", because she kept smiling as a baby. She is of part Cherokee descent. Cyrus attended Heritage Middle School, where she was a cheerleader. She currently attends school at Options For Youth Charter Schools and studies with a private tutor on the set of her TV show. Cyrus grew up on her parents' farm outside of Nashville where she regularly attended the People's Church.
Career
2001–2005: Early work
Cyrus became interested in acting when she was nine, and took classes at the Armstrong Acting Studio while her family lived in Toronto, Canada. Her early career was marked by minor roles, the first of which was playing a girl named Kylie on her father's television series Doc. In 2003, Cyrus was credited under her birth name for her role as "Young Ruthie" in Tim Burton's Big Fish. Dolly Parton, Miley's godmother, advised Cyrus's mother to sign Cyrus with Morey Management Group, which The Hollywood Reporter said "was the best advice she could [have gotten] on who should rep her daughter". The group's leader, Jim Morey, and his son, Jason, began co-managing Cyrus's career alongside Tish Cyrus. When Cyrus was 12, she auditioned for the role of "best friend" in a Disney Channel television show about a "secret pop star". Disney Channel executives at first judged her to be too young, but Cyrus's persistence resulted in her being called back for further auditions. She eventually auditioned for the lead role, Zoe Stewart. When she won the role, the character's name was changed to Miley Stewart since Miley claims she was called by too many names. According to Disney Channel president Gary Marsh, Cyrus was chosen because of her energetic and lively performance and was seen as a person who "loves every minute of life," with the "everyday relatability of Hilary Duff and the stage presence of Shania Twain." Cyrus had tried for several years to lose her Southern accent, but Disney decided to include it in the storyline. Later, Cyrus had to audition her father, Billy Ray Cyrus, for the role of the main character's father. The show focuses on adolescence while incorporating a "secret identity" aspect to the storylines.
2006–June 2008: Hannah Montana and Meet Miley Cyrus
Hannah Montana first aired on March 24, 2006 in the United States and averaged more than 4 million viewers per episode. As of 2009, the series is in its third season on Disney Channel with plans for a fourth and final season in March 2010. As the star of Hannah Montana, Cyrus became popular with children and teenagers, leading to a successful career in music. Her recording debut was on April 4, 2006, when the fourth edition of DisneyMania was released. Cyrus sang a cover of James Baskett's "Zip-a-Dee-Doo-Dah," originally from the 1946 animated film Song of the South. On October 24 the same year, Walt Disney Records released the first Hannah Montana soundtrack. Of the nine tracks on the album performed by Cyrus, eight were credited to Hannah Montana and one, a duet with Billy Ray Cyrus titled "I Learned from You", was credited to Cyrus as herself. The album debuted at #1 on the US Billboard 200 and sold 281,000 copies in its first week, beating such artists as John Legend and rock band My Chemical Romance. Cyrus, as Hannah Montana, opened for The Cheetah Girls on their The Party's Just Begun Tour. She performed at 20 dates of their 39-city tour, beginning on September 15, 2006. On June 26, 2007, Cyrus released a double album, Hannah Montana 2: Meet Miley Cyrus. The first disc was a second Hannah Montana soundtrack, while the second disc was Cyrus's first solo album credited to herself. The album debuted at #1 on the Billboard 200 and sold 326,000 copies, selling faster in its first week than the previous Hannah Montana soundtrack. It was certified Platinum three times by the RIAA after selling more than 3 million copies in the US. Cyrus voiced the recurring character Yatta on the Disney Channel animated series The Emperor's New School. She had a cameo appearance in High School Musical 2 which premiered August 17, 2007. She danced beside a pool in the movie's closing number and was credited as "girl at pool". Cyrus's first headlining tour, the Best of Both Worlds Tour, lasted from October 18, 2007 to January 31, 2008 with 69 concerts across the United States. She performed both as herself and as Hannah Montana. The Jonas Brothers were the opening act for most of the tour. Tour tickets for each date sold out in record time. The tour was recorded and released to theaters as a concert film in Disney Digital 3-D. Walt Disney Records/Hollywood Records released the film's soundtrack on March 11, 2008. It peaked at number three on the Billboard 200.
July 2008–2009: Breakout, The Time of Our Lives EP and film career
In July 2008, Cyrus released her second studio album under her own name, entitled Breakout. Cyrus said Breakout was inspired by "what's been going on in my life in the past year." Cyrus co-wrote eight out of twelve songs on the album. "Songwriting is what I really want to do with my life forever, [...] I just hope this record showcases that, more than anything, I'm a writer." The album debuted at #1 on the U.S. Billboard 200 chart with a first week sales of about 371,000 copies. As of July 31, 2008, this was the second-biggest sales week of the year for a female artist; Mariah Carey's E=MC² previously sold 463,000 copies in its first week. "7 Things" was the first single to be released from Breakout and peaked at number 9 on the Billboard Hot 100. She hosted the 2008 CMT Music Awards with her father in April. In 2008, Cyrus hosted the Teen Choice Awards. Cyrus provided the voice of Penny in the 2008 computer-animated feature film, Bolt, about a television star dog on his quest to find his owner. Cyrus co-wrote and recorded one of the two original songs on the soundtrack of Bolt, which features her Bolt co-star John Travolta. Titled "I Thought I Lost You", it was later nominated for a Golden Globe Award for Best Original Song. Cyrus again played the title role in the Hannah Montana film spin-off, Hannah Montana: The Movie which was released on April 10, 2009. The film is about Stewart returning to her country roots and deciding which life to choose, her own normal life or as pop star Hannah Montana. Her single, "The Climb" from the movie's soundtrack peaked at number four on the Billboard Hot 100, thus becoming her highest charting single since "See You Again" and "7 Things" which charted at #10 and #9 respectively; later "Party in the U.S.A." charted at # 2. The movie's soundtrack became the third album under the franchise to take the lead of the Billboard 200 and was certified platinum by the RIAA. In June 2009, Cyrus changed her TV and movie career representation from United Talent Agency to Creative Artists Agency, which had already represented her for music. Also in June, Cyrus began filming her movie The Last Song, based on a novel of the same name by Nicholas Sparks, in which she plays a rebellious teenage girl who spends a summer with her estranged father at his home in a quiet beach town. The film was conceived as a "star vehicle" with the intention of introducing Cyrus to older audiences. Cyrus recorded a song with the Jonas Brothers titled "Before the Storm" for their fourth studio album Lines, Vines and Trying Times. She also launched another Hannah Montana soundtrack (for the third season), titled Hannah Montana 3 on July 7, 2009. "Party in the U.S.A." was officially released to radio on July 29, 2009. The song is from a Wal-Mart exclusive EP entitled The Time of Our Lives which released on August 31, 2009. It was released as promotion for Cyrus's clothing line. The song made it to number one on Hot Digital Songs with 226,000 paid downloads, making her the youngest artist to top the chart, which led its big debut on the Billboard Hot 100, where it was placed at number two, topping "The Climb" (that peaked at number four). The song thereby became the "fastest breaking single in Hollywood Records' history." Cyrus announced her 2009 North American Tour. The tour began on September 14, 2009 in Portland, Oregon and spanned 45 dates across North America. Eventually, additional dates were announced for the United Kingdom making the tour change names to the Wonder World Tour. The tour featured the band Metro Station as a special guest. Tickets went on sale to the general public on June 13, 2009 and for the UK dates on June 12, 2009. In July 2009, Disney acquired the film rights to Aprilynne Pike's novel Wings, in which Cyrus is expected to star. In early December 2009, Cyrus performed her hits "See You Again", "The Climb" and "Party in the U.S.A." at the Capital FM Jingle Bell Ball at London's The O2 arena. On December 7, 2009, Cyrus performed for Queen Elizabeth II and numerous other members of the British Royal Family at the Royal Variety Performance in Blackpool, North West England, along with fellow American pop singer Lady GaGa. In December, Timbaland released his album, Shock Value II, which features a track with Cyrus called "We Belong to the Music". Cyrus was ranked number four on Billboard's list of the Top Female Artists of 2009, above artists such as Britney Spears and Kelly Clarkson. In late 2009, Cyrus recorded a cover of the Poison song Every Rose Has Its Thorn in collaboration with Bret Michaels. The track was produced by John Shanks. Cyrus plans to take a break from recording music after releasing her next album in hopes of developing an "edgier" sound.
2010 onwards: Focus on films
Shooting for the fourth and final season of Hannah Montana began January 18, 2010. Cyrus has also been working on her third studio album, which is titled I Can't Be Tamed and expected for release in June 2010. After releasing the album, Cyrus says she will likely take a break from the music industry in order to focus on her film career. She notes, "I've not taken like acting lessons or anything but it doesn't mean I don't need to because I'm sure I do [...] I'm probably going to go book an acting coach." Cyrus' The Last Song was released on March 31, 2010, and she is attached to star in two other films, Wings and LOL (Laughing Out Loud). In LOL, a remake of a 2008 French teen comedy, Cyrus plays "a daughter who is involved with all the wrong kids, doing drugs, failing school, but [...whose] mother has her on this perfect pedestal" and says "[She] just fell in love with the story." Wings, based on the first novel in a planned four-book series written by Aprilynne Pike, would star Cyrus as Laurel, a fifteen year old who discovers she is a fairy.
Personal life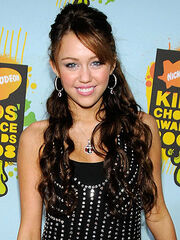 Cyrus suffers from a mild heart condition causing tachycardia. In her autobiography,
Miles to Go
, Cyrus writes, "There is never a time onstage when I'm not thinking about my heart". In January 2008, Cyrus announced her intent to officially change her name to "Miley Ray Cyrus," her middle name reflecting that of her father. The name change became official on May 1, 2008. In an interview with
USA Today
, Cyrus was quoted as saying her faith is "the main thing" and is the reason why she works in Hollywood. When interviewed by
Parade
, she added that she attends church regularly with her family. In an interview with
Christianity Today
, Billy Ray Cyrus said, "Being Christian, we believe in heaven," and "We also had a great church, and when you give up your church, your pastor, and the community you are involved in, you're making a big sacrifice. Let's face it, Hollywood is a completely different environment than Franklin, Tennessee." In February 2008, Cyrus and her friend Mandy Jiroux (who is also a backup dancer for Cyrus) began creating videos on YouTube called
The Miley and Mandy Show.
The show, described as a "YouTube hit," is said to be filmed for fun by Cyrus and Jiroux and to be entirely their work, with Cyrus and Jiroux editing the footage together. It is filmed mainly in Cyrus's bedroom. Cyrus was also popular on the social networking site Twitter; her site was watched by approximately 2 million Twitter users in addition to the general public when she deleted it on October 8, 2009. In the September 2008 issue of
Seventeen
, Cyrus stated she had been in a relationship with Nick Jonas for two years, starting in 2006, and that they "were in love". They broke up at the end of 2007. In June 2009, Cyrus ended a nine month long relationship with
Nashville Star
contestant and model Justin Gaston. In March 2010, Cyrus admitted she had been dating Liam Hemsworth, her co-star in
The Last Song
.
Filmography
Film
Year
Title
Role
Notes
2003
Big Fish
Ruthie
Minor Role
2007
High School Musical 2
Girl at Pool
Cameo
2008
Hannah Montana & Miley Cyrus: Best of Both Worlds Concert
Herself/Hannah Montana
Concert film; 3D
Bolt
Penny
Voice Role
2009
Hannah Montana: The Movie
Hannah Montana/Miley Stewart
Lead Role
2010
The Last Song
Veronica "Ronnie" Miller
Based on Nicholas Sparks novel
Sex and the City 2
Herself
Cameo
2011
LOL: Laughing Out Loud
Unknown
Wings
Laurel
Television
Year
Title
Role
Notes
2001, 2003
Doc
Jed's Daughter Kylie
Pilot: Part 1 Men In Tights
2006–2011
Hannah Montana
Miley Stewart/Hannah Montana
Lead Role
2006
That's So Suite Life of Hannah Montana
Hannah Montana
TV Special
2007
The Emperor's New School
Mudka's Meat Hut Waitress
Voice Role
2007–2008
The Replacements
Celebrity Star
Voice Role
2009
Wizards on Deck with Hannah Montana
Hannah Montana
TV Special
External links