I've gotta' clean it up!!

This article needs to be tidied up to meet The Suite Life Wiki's standards of quality.
You can help clean up by use character page format, See Cody Martin.
Moose was Bailey's ex-boyfriend who was first mentioned in Parrot Island. He later appears in Mulch Ado About Nothing, where he was shipped to the S.S Tipton by London who thought he was a real moose. Cody gets jealous of Moose because he is better than him.
Origin
Moose is played by Wesley Spottiswood. Was born in Fresno California but spent most of his life in Kentucky.
Story
During many different contest's and games, Moose always beats Cody, making him look bad. Moose even gets voted by Zack and Woody. Moose learns how homesick Bailey is and then makes the ultimate decision to take Bailey back and refuses to take no for an answer. He then gets mad when Bailey says no and leaves, saying he'll date another girl with "only one tooth." Baliey mentions that the reason she broke up with Moose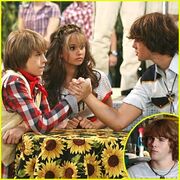 in the first place was becuse he always thought he knew what was best for her. He was mentioned again in My Oh Maya when Cody was thinking about Bailey back in Kettlecorn. In Twister: Part 2, Moose and Cody fight over Bailey's heart. When Cody and Moose are fighting, Cody says to Bailey,"Bailey, tell this tall, strapping cowboy that you pick me." Moose had already won over Bailey's father. In the end though, he is mad because Bailey picks Cody over him. He yells, "I'm going home," followed by Mr. Pickett saying, "This is your home!" During the episode Snakes on a Boat, when Cody couldn't make Bailey laugh, he mentioned him saying "Did Moose ever make you laugh?". Bailey didn't know what to say and she said that "it didn't matter", clearly pointing out that Moose has made Bailey laugh.
!
This section of the article has one or more issues.
| | |
| --- | --- |
| | This article is a stub. You can help The Suite Life Wiki by expanding it. |
Community content is available under
CC-BY-SA
unless otherwise noted.