I've gotta' clean it up!!

This article needs to be tidied up to meet The Suite Life Wiki's standards of quality.
You can help clean up by This article is extremely messy. Try and sort BY EPISODE and not "Episodes for" and "episodes against".
This article is about
Nia
and
London
friendship in
the show
.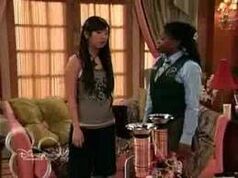 Episodes For
As soon as Nia knows that London is Mr. Tipton's daugther, she becomes good friends with her, but is secretly using her for money. They go to a concert together and bring a gang of friends from the concert back to the hotel for a party without the permission of Mr. Moseby.
Although she (with Zack and Cody) do a sleepover in London's suite, London didn't have a problem with it and joins in.
In this episode, Nia helps London to find out who Lance is dating. However, Nia once again only does it for money (a diamond necklace) for her. When she catches Lance's currently new girlfriend, she immediately told London.
This time, Nia told London how to behave in High School.
Although the two girls were fighting to convince Cody to help them, they finally both combined their projects and do "French Fries", also, the two won money with it.
The two girls were in same team of benchwarmers, also, it was only because London was expelled from the team, and Nia wanted to get revenge on Dana Whol, a girl who stole her boyfriend.
Episodes Against
At the start of the episode, Nia was rude to London, although, this was before she knew who London Tipton is.
Although she did a party which London also likes and unite it, she "stole" London's suite only for money.
She was canning London to give her a price to see who is Lance's new girlfriend, also, when London was fighting with Wanda (Lance's girlfriend), Nia was taking photos when both were fighting, and she told Lance she will send it to "The Global Enquirer".
At the final of the episode, London told Cody she was happy to be in detention if Nia is also in the same pain. Also, Nia presums to London about her new friends.
At the start, both girls was fighting to know which one of them will be helped by Cody, also at the final, any of them was it.
Community content is available under
CC-BY-SA
unless otherwise noted.