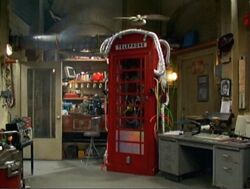 The Parallel Universalizer (or the P.U. for short) is a machine built by Arwin Hochauser. The machine itself is capable of taking any occupants to an alternate reality. The machine has only been seen in the episode "The Suite Smell of Excess".
Story
Main article: List of Oddities in the Parallel Universe
When Zack and Cody went down to Arwin's room, Arwin was hiding a machine under a blanket. The boys were curious, and Arwin finally revealed what it was. Arwin then needed to go to the "Little Janitor's Room", Zack and Cody went inside the machine. Zack puts a quarter in the machine and then Cody swipes his bus pass and the machine works. The fan at the top spins and the P.U. is struck by lightning. Zack and Cody hopped out of the machine and they were in an alternate reality. A lot had changed.
Maddie was as dumb and rich as London.

The Hotel was called the "Fitzpatrick" not the "Tipton", and Maddie's father owned the Hotel.

London was poor and she works as the candy counter girl and is as smart as Maddie.
Carey let the boys do anything and had a crush on Arwin.
Carey also has a best selling tour and was about to go on a 3-12 month world tour.
Arwin was Carey's manager, and was cool and had hair.
Paris Hilton was president.
Mr. Moseby was chilled out and cheeky and was like Zack and Cody.
George Clooney was the face on coins.
Basically everything was the opposite of its normal. After too many movies and too much junk food, the boys decided to go back. Cody swiped the bus pass and they hopped in. They did not go back. Then Cody hit a switch and the machine worked.
Design
The Parallel Universalizer looks like a modified London phone booth. Inside the P.U. are a heap of buttons, a swipe machine and many wires. On top of this is a fan.
Gallery
Community content is available under
CC-BY-SA
unless otherwise noted.