Phill Lewis's first big break in show business was starring in the title role of the short-lived situation comedy Teech. However, the show was canceled after only four episodes due to low ratings.
Shortly after the program's end, Lewis was arrested in late December 1991 for an incident where he was accused of driving while intoxicated, and hit a pedestrian in Potomac, Maryland, 21 year-old Isabel Duarte of Bethesda, who would die from her injuries. He was convicted of the DUI charge and manslaughter with a motor vehicle in Montgomery County Circuit Court on February 8, 1993, and sentenced to five years in prison, two years of probation, and 350 hours of community service. However, Judge William Miller suspended four years of the prison term, citing Lewis' work with a prison-based theater group which performed in schools and churches to highlight the consequences of drug abuse. After these legal troubles, Lewis resumed his career anew, acting mostly in supporting roles in sitcoms before his role in The Suite Life.
He is one of the stars of the Disney Channel television show, The Suite Life on Deck, where he plays the manager of The S.S. Tipton, Mr. Moseby. Previously, he appeared in the Disney Channel show The Suite Life of Zack & Cody. He has also appeared as a guest star on the Disney Channel's That's So Raven.
Previously, Lewis appeared as a recurring or occasional character on a number of television series, including as Principal Tweedy on Lizzie McGuire, Hooch on Scrubs, Roy on Yes, Dear, Steve on Friends (a show on which, coincidentally, his Suite Life co-star Cole Sprouse played Ross's son), Sam Lee on A Different World, a member of Kelly Robinson's entourage in I Spy Returns, Mr. Platt on Buffy the Vampire Slayer, and as a doctor on Brothers & Sisters. He also made a cameo appearance as a banker for Lily and Marshal on How I Met Your Mother. He also guest starred on 8 Simple Rules as a police officer.
He had a role as Tia and Tamera's teacher, Ed, in Sister, Sister, but has also appeared as Ray's campaign manager on the same series. He was a regular on The Wayans Bros. from 1995–1998, as T.C. He also was one of the co-hosts for the first-ever Disney Channel Games, along with Brian Stepanek, a fellow cast member on "The Suite Life of Zack & Cody". Lewis starred in the hit movie, Brother Future (1991). He has appeared in smaller roles in over a dozen films, including Heathers (1989), City Slickers (1991), Surviving Christmas (2004), and Kicking & Screaming (2005).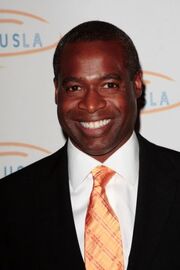 He played a role on a new Disney Channel Original Movie, Dadnapped. He also was given a part on "Phineas and Ferb Hawaiian Vacation," where he voiced a hotel manager in Hawaii.
He is now a director for Ashley Tisdale's (Maddie) Freeform show Young & Hungry.
Community content is available under
CC-BY-SA
unless otherwise noted.