Starship Tipton

Marcus, Cody, Zack, and Bailey in their spacesuits
Season:
2
Episode:
26 (season)
47 (series)
Production Code:
227
Special Guest:
George Takei as Rome Tipton


Jonathan Kite as Anterian Commander

Writer:
Jeny Quine, Dan Signer
Director:
Kelly Sandefur
Originally Aired:
May 14, 2010
"Starship Tipton" is the 26th episode of the second season of The Suite Life on Deck.
Story
A Moseby Robot came from the future to annihilate Zack because his great-great-great-great-great grandson, Zerk pulled a prank that has put all of man-kind into peril. Cody suggests that there should be another solution. Robot Moseby took Zack, Cody, London, Bailey, Marcus and Mr. Moseby 500 years in the future onto the Starship Tipton. Robot Moseby then explains that Starship Tipton looks like S.S. Tipton because all Tipton vessels were designed off of it.
When the Moseby Robot left, not wanting anyone to know he didn't complete his mission, he was replaced him with the real Mr. Moseby, being sent to the Diagnostics and having painful tests being performed on him.
Zack and Cody try to get the ship away from Anterian space. Zack pushed a button that set the course closer to total annihilation. Everyone, including the captain took all the escape pods, leaving the Starship Tipton in the kids' hands.
Meanwhile, Bailey and Marcus summoned an Anterian hologram, who is one of the aliens going to abduct the Starship Tipton.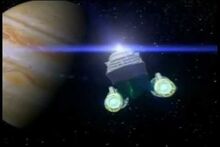 Elsewhere, London met her great-great-great-great-great grandson, Rome Tipton, who is like London:
He's rich
He hates going to school
He's not so intelligent
His first name is also the same as a European city
Zack pressed a tune, but it isn't working. When closer to total annihilation, Cody is connecting the wires to jump over Anterian Space.
Meanwhile, Bailey and Marcus are teaching the Anterian hologram music.
Elsewhere, London took Rome somewhere where he got a lollipop and balloons.
In the Diagnostics room, Mr. Moseby's nose was turned painfully to test if he can speak French, German, and "Flidonian". The Diagnostic realized his arm wasn't as durable, and it was nearly taken off until the Diagnostic realized there was a leak in his eye fluid and went off to get an eyeball scoop.
Back at the Sky Deck, Cody has done all the work needed, but doesn't know whether he should plug the red wire or the black one to the rest. When London connected the black wire, the left turn signal is activated. When everything seems so calm, lasers started to hit the ship. At the Diagnostics room, Mr. Moseby escaped where it is revealed that the Diagnostic is Ms. Tutweiller's future counterpart, Eee-Eee-Eee-Eyah-Eyah ("Eyah" for short).
Back at the Sky Deck, the aliens are revealed to be tiny and everyone started stepping on them. When Zack slammed the shoe the leader was stuck to on the keypad, the ship was fixed and the power was reactivated.
Cody has fixed the temporal portal where the Mr. Moseby robot sent them and where he came from. When they got home, a Mr. Moseby robot decided to take Eyah to see the rings of Saturn, but she thinks he was talking about engagement rings. The Mr. Moseby robot hurled himself to space. After that, it is revealed that this was all a fantasy that Zack told to Ms. Tutweiller as an excuse to why he didn't do his homework. Ms. Tutweiller was about to give him an F, but decided to give him a D since Zack gave her two boyfriends (even though one flung himself out the air lock). She also says this story kinda has a point: Zack should be careful with his actions now, or his descendants might also be "adrift in the cosmos".
Meanwhile, Zerk made it to Planet Bikini, where he was actually sending the ship to, but it didn't turn out as exciting as it seemed to be.
!
This section of the article has one or more issues.
Trivia
The Diagnostic's voice sounded like Woody until she took off her protective gear. This is a possible reference to how Darth Vader was acted by and voiced by two different people.
The "Moseby Robot" programmed to eliminate Zack after time traveling from the future is a parody of the Terminator robot programmed to eliminate John Connor after time traveling from the future.

His face, after the removal of artificial skin, resembles the Terminator.

The entire story is a parody of Star Trek, including the costumes Zack, Bailey, Cody, Marcus, London, Rome, and others wear. Additionally, George Takei, who plays Rome, portrayed Hikaru Sulu in Star Trek.
Zerk calls the rocky object he got hit with inside the prism a meteorite, but it is actually a meteoroid.
It's ambiguous whether the fantasy Zack told Miss Tutweiller is actually the truth or not due to Zerk is seen arriving on Planet Bikini at the end of the episode.
When Marcus keeps complaining that his suit is red and, "The guys in red are always killed," followed by some characters to fly out of the ship, this may be a reference to Star Trek, where characters wearing red-colored suits were more expendable. This is also seen in some movies such as James Bond, where the red color of the suit is used to imitate blood.
The mirror-like prison Zerk was seen in is a reference to the Phantom Zones in Superman II.
Robot Moseby referenced Alien's tagline, saying "... where no one can hear him scream."
The sound effect used when they "beamed" is similar or identical to the sound effect used for certain forms of  Orbing in the television series Charmed.
Bailey mentions having an uncle named Dobs who was kicked by a mule, run over by a tractor and struck by lightning--Bailey notes that this uncle of hers is "not a lucky man."
The Anterian commander has referenced two popular cultures, being Curly of The Three Stooges and Stretch of Backyard Sports after he was told Marcus' music artist name Li'l Little, asking if it was supposed to be an ironic nickname.
| | |
| --- | --- |
| | This article is a stub. You can help The Suite Life Wiki by expanding it. |
Community content is available under
CC-BY-SA
unless otherwise noted.