Welcome!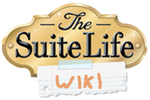 Hi Afterman, and welcome to The Suite Life Wiki! Thanks for your edit to the Cody Goes to Camp page. Here are a couple pages you might want to check out
Recent Changes: A great stop, to know what's going on here
Forums: go here to talk to the community
Policy: follow these to keep harmony
Here is a Wiki tip for you, put four of ~ in a row for your signature. (~~~~)
We hope you will like it here. Please leave a message on my talk page if I can help with anything! Soxra (talk) 00:54, February 4, 2015 (UTC)
Community content is available under
CC-BY-SA
unless otherwise noted.