Welcome!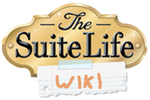 Hi Djjayphila123, and welcome to The Suite Life Wiki! Thanks for your edit to the Heck's Kitchen page. Here are a couple pages you might want to check out
Recent Changes: A great stop, to know what's going on here
Forums: go here to talk to the community
Policy: follow these to keep harmony
Here is a Wiki tip for you, put four of ~ in a row for your signature. (~~~~)
We hope you will like it here. Please leave a message on my talk page if I can help with anything! Soxra (talk) 02:49, December 23, 2013 (UTC)
Your additions
Just because the pages need expansion does not mean that adding arbitrary facts increases the quality of the article.
In some cases, it was clear that your edits were on the right track, and I did what I could to improve them, such as:
But you also seem to add a lot of unnecessary things in many places, which don't really add to the articles, such as:
This "Nurse Zack" edit reveals a plot point which didn't follow from what came before it. If anything, it would belong in the story section, but even then, it's so specific that it's not an easy thing to read.
This Gwen edit that introduced two pieces. One suffered from the same issue as above; a single one of Zack's comments is not really worthy of mention like that. The second is a piece of trivia which is not relevant to Gwen's character, as it is specific to Selena Gomez, whose article does mention this fact.
This Agnes edit introduced a lot of elements which are very, very specific comments in the story, such as the comment about Saturn's rings, which again, do not really contribute to the flow of a story summary. I did my best to keep your information about her obsessive personality without making the Personality section awkward, though.
I know I didn't address every edit here, because that would take quite a long time and I doubt you want to read it all. But if you have any questions about specific edits you made that I undid, please go ahead and ask. I do read every edit, and attempt to be as far as possible when undoing or altering them.
Good luck!
Community content is available under
CC-BY-SA
unless otherwise noted.