Welcome!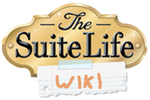 Hi Scissor Luv208, and welcome to The Suite Life Wiki! Thanks for your edit to the Maya Bennett page. Here are a couple pages you might want to check out
Recent Changes: A great stop, to know what's going on here
Forums: go here to talk to the community
Policy: follow these to keep harmony
Here is a Wiki tip for you, put four of ~ in a row for your signature. (~~~~)
We hope you will like it here. Please leave a message on my talk page if I can help with anything! -- Soxra (Talk) 01:33, August 11, 2012
Decorating/Admin
Well, it does have a pattern to it... but if you have an actual wallpaper (of a large enough size) in mind, do tell. Of course, remember that there is content in the middle, so the "interesting" parts of the wallpaper should be at the edges. A design change could be nice!
To be completely honest, I don't know why people still come here! It's basically dead, the series has been off the air for years, and I thought most of the show's fans would have gotten bored with it by now. So I'm afraid I'll be of little help there...
As for adminship, this seems to be a fairly common request around here, as you might know. Unfortunately, as it stands, you have only 10 mainspace edits (one of which you undid), most of which were almost two years ago. The reality is that good contributors do not need administrative tools to make good contributions. As an admin of another wiki, you likely know that really the only useful permissions an admin gets are moving and deleting articles (rollback is separate). There is also the banning of users, but that's not something that has to happen very often (with one recent exception). To contribute well to a wiki and have a positive impact on it, admin tools aren't needed.
Personally, I was a regular user here for over a month, with over 660 edits, before I became an admin. I wouldn't go so far as to say you have to achieve something like that to be right for the position, but I want you to realize that 10 edits spread over two years just are not enough to represent you as a solid, active member of the community. Set a foundation of good edits first, then seek a higher position.
We'll take a look at your contributions over the next 3-4 weeks and give it another look.
Keep it up!
Well, I was gone for a month, so people kinda took over. But it took only an hour or so to get everything back the way it was, so it doesn't really worry me at all.
Unfortunately we cannot change the editing rules. Unless something has changed, it is against what Wikia allows us to do. Besides, most of the bad information is done by signed-in users, which obviously we can't do anything about.
Yup, get those contributions going! And don't be afraid to suggest decoration ideas if you have them.
Community content is available under
CC-BY-SA
unless otherwise noted.