Welcome!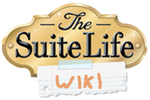 Hi Traviesa1321, and welcome to The Suite Life Wiki! Thanks for your edit to the User:Traviesa1321 page. Here are a couple pages you might want to check out
Recent Changes: A great stop, to know what's going on here
Forums: go here to talk to the community
Policy: follow these to keep harmony
Here is a Wiki tip for you, put four of ~ in a row for your signature. (~~~~)
We hope you will like it here. Please leave a message on my talk page if I can help with anything! -- Soxra (Talk) 18:54, May 11, 2011
Your contributions
Adding personal photos to Wiki content articles and modifying maintenance templates is against the rules. Please either contribute something useful or use the Wiki for viewing only. Soxxeh [TALK] 19:23, May 11, 2011 (UTC)
Community content is available under
CC-BY-SA
unless otherwise noted.