Vanessa Anne Hudgens

Gender:
Female
Date of birth:
December 14, 1988 (aged 31)
Place of birth:
California, U.S
Role(s):
Chelsey
Other Notable Projects:
High School Musical
Bandslam
Vanessa Anne Hudgens (born December 14, 1988) is an American actress and singer. After working in local theater plays and television commercials in her childhood, Hudgens made her screen debut in the 2003 drama film Thirteen as Noel. She next starred in the 2004 science-fiction-adventure film Thunderbirds. Hudgens's most prominent role was as Gabriella Montez in the High School Musical series. She earned critical acclaim for her role in the 2009 film Bandslam. Hudgens's debut album V was released on September 26, 2006. The album entered the Billboard 200 at number twenty four, and was later certified Gold. Hudgens released her second album, Identified, on July 1, 2008 in the U.S, and three High School Musical soundtracks released have sold 16,200,000 million worldwide.
Early life and career
Hudgens was born in Salinas, California, and lived all over the West Coast – from Oregon to Southern California – with her parents, Gina (née Guangco), who held a succession of office jobs, and Gregory Hudgens, a firefighter. She has a younger sister, Stella Hudgens, who is also an actress. Hudgens is of mixed cultural background, as her father is of Irish and Native American descent, and her mother, a native of Manila, is of Chinese-Filipino-Spanish descent. All of Hudgens's grandparents were musicians. Starting at the age of eight, Hudgens performed in musical theater as a singer, and appeared in local productions of Carousel, The Wizard of Oz, The King and I, The Music Man, and Cinderella, among others. Two years after her career in stage plays and musicals, she started auditioning for commercials and television shows, and her family moved to Los Angeles after she won a role in a television commercial. Her acting career started at the age of 15, and she was not able to finish high school in Orange County High School of the Arts, after being home schooled by tutors.
Career
2003-2007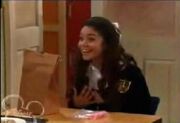 In 2003, Hudgens played a minor role in the independent drama film
Thirteen
, where she plays Noel, a friend of a lead character (Tracy, played by Evan Rachel Wood). The film was critically successful, receiving generally favorable reviews, and its receipts surpassed its $4 million budget. Hudgens subsequently landed a role in the 2004 science fiction-adventure film
Thunderbirds
as Tintin. Unfortunately, the film was commercially and critically unsuccessful, and received heavy criticism through the Internet prior to its release. By late 2005 Hudgens had appeared in television shows such as
Quintuplets
,
Still Standing
,
The Brothers García
,
Drake & Josh
, and
The Suite Life of Zack & Cody
. In late 2005 she landed her breakout role of shy and meek Gabriella Montez in
High School Musical
, opposite to Zac Efron. Her performance received numerous nominations and awards. With the success of the film, the
BBC
predicted that Hudgens would be a "household name" in the US. Hudgens received a recording contract with Hollywood Records. On September 2006 her debut album entitled
V
was released. It charted on the
Billboard
200 at number twenty-four, and was certified Gold on February 27, 2007. Her first single, "Come Back to Me" became her highest-charting single. Her second single was "Say OK".
Billboard
readers chose "V" as the seventh best album of the year. Hudgens was named Female Breakout Singer of the year at the 2007 Teen Choice Awards. Hudgens also participated in the nationwide
High School Musical: The Concert
tour in fall 2006, performing the songs from the soundtrack album as well as the three songs from her debut album. She sang the duet "Still There For Me" with Corbin Bleu for his debut album. In 2007, Hudgens reprised her role as Gabriella Montez in the sequel of
High School Musical
, High School Musical 2. Virginia Heffernan of
TV Review
described Hudgens in her performance in the movie as "matte" as she "glows like a proper ingénue". In December 2007, she sang to George Bush, who was then the president of the U.S., and his family, at The National Building Museum in Washington, D.C. with other singers at a Christmas event.
2008-present
Hudgens reprised her role as Gabriella Montez in
High School Musical 3: Senior Year
. Her performance in the film made her win favorite movie actress in the 2009 Kids Choice Awards. Her sophomore album,
Identified,,
which received generally favorable reviews, was released on July 1, 2008, debuting at #23 on the
Billboard
200. The album's lead single was "Sneakernight". Hudgens's
Identified Summer Tour
began on August 1, 2008 and ended in early September 9 of the same year.
Hudgens performed a musical number with other artists during the 81st Academy Awards. On April 8, 2009, Hudgens's participation in a comedic short video entitled "Zac Efron's Pool Party" for the website Funny Or Die was released for public viewing. Hudgens later provided voice roles in Robot Chicken. In June 2009, in an interview with MTV, Hudgens stated that she now "...just focusing on films and acting" and take a break from her music career. Hudgens played a supporting role in a musical comedy
Bandslam
, which was released theatrically on August 14, 2009. Hudgens plays "Sa5m", a 15-year-old awkward freshman with untapped talents. Although
Bandslam
was commercially unsuccessful, Hudgens's performance received praise from critics.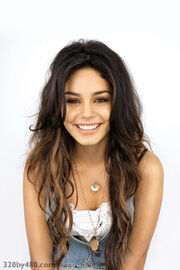 David Waddington of the
North Wales Pioneer
noted that Hudgens "outshines the rest of the cast, failing to fit in with the outcast narrative and making the inevitable climactic ending all the more expected," and Philip French of
The Guardian
compared her acting to Thandie Newton and Dorothy Parker. In 2009, it was announced that Hudgens will play
Linda Taylor
in
Beastly
, a film based on the book by Alex Flinn, opposite to Alex Pettyfer. She plays the "beauty" in the story. Hudgens was cast as Blondie in an action film
Sucker Punch,
which will release in March 2011. Along with
Beastly
co-star, Alex Pettyfer, Hudgens was recognized as
ShoWest
stars of Tomorrow. Hudgens will star in
Rent
as Mimi. The stage production will run from August 6–8, 2010 at the Hollywood Bowl.
Personal life and public image
In an October 2007 interview, Hudgens stated that she is dating her High School Musical series co-star Zac Efron and had been since the filming of High School Musical. The two were not paired together during the audition process and did not meet until the first early rehearsals before filming started. Hudgens is a Catholic and her height is 5 ft 3 in (1.60 m). In 2006, Hudgens's earnings were estimated to be $2 million. Hudgens was included in Forbes richest list in early 2007, it was posted in Forbes website, that Hudgens was included in Young Hollywood's Top Earning-Stars. On December 12, 2008, Hudgens was ranked #20 in the list of Forbes "High Earners Under 30", having reported to have an estimated earnings of $3 million in 2008. She was number 62 at FHM's Sexiest Women in the World of 2008 and number 42 in the 2009 list. Hudgens is also featured in Maxim's lists. She was included in People's annual "100 Most Beautiful People" 2008 and 2009 lists. Hudgens is represented by William Morris Agency. Hudgens also promotes Neutrogena and was the 2008 featured celebrity for Sears' back-to school campaign. She was a spokesperson for Mark Ecko products. But in late 2009, she ended the 2-year contract with Ecko products. Hudgens regularly volunteers for charitable activities, including those for Best Buddies International, Lollipop Theater Network, St. Jude Children's Research Hospital and the VH1 Save The Music Foundation. Hudgens is also featured in A Very Special Christmas Vol.7 disc which benefits the Special Olympics.
Filmography
Theatrical Films
Years
Title
Role
Notes
2003
Thirteen
Noel
First theatrical film
2004
Thunderbirds
Tintin
Main character
2008
High School Musical 3: Senior Year
Gabriella Montez
Third time to reprise her role as Gabriella Montez
2009
Bandslam
Sa5m
Main character
2010
Beastly
Linda Taylor
Completed
2011
Sucker Punch
Blondie
Completed
Films made for television
Year
Title
Role
Channel
2006
High School Musical
Gabriella Montez
Disney Channel
2007
High School Musical 2
Television guest appearances
Year
Title
Role
Episode(s)
2002
Still Standing
Tiffany
"Still Rocking" (Season 1, Episode 4)
Robbery Homicide Division
Nicole
"Had" (Season 1, Episode 10)
2003
The Brothers Garcia
Lindsay
"New Tunes" (Season 4, Episode 37)
2005
Quintuplets
Carmen
"The Coconut Kapow" (Season 1, Episode 22)
2006
Drake and Josh
Rebecca
"Little Sibling" (Season 3, Episode 13)
The Suite Life of Zack and Cody
Chelsey
"Forever Plaid" (Season 2, Episode 6)"Not So Suite 16" (Season 2, Episode 10)"Neither a Borrower nor a Speller Bee" (Season 2, Episode 12) "Kept Man" (Season 2, Episode 40)
2009
Robot Chicken
Lara Lor-Van / Butterbear / Erin Esurance
"Especially the Animal Keith Crofford" (Season 4, Episode 19)
Gallery
External links
Community content is available under
CC-BY-SA
unless otherwise noted.