This article is about the trilogy of episodes from The Suite Life on Deck. For other uses, see Wizards on Deck with Hannah Montana (disambiguation).
"Wizards on Deck with Hannah Montana" is a trilogy of crossover episodes between three Disney Channel original sitcoms which premiered in the United States on July 17, 2009. The crossover spanned across episodes of Wizards of Waverly Place, The Suite Life on Deck, and Hannah Montana, seeing Max, Justin and Alex Russo join regulars from Suite Life aboard the S.S. Tipton, Cody Martin attempting to retrieve tickets for a Hannah Montana concert in Hawaii, while Miley Stewart, on route to the concert, loses her mother's lucky anklet - triggering a streak of further bad luck. The broadcast was watched by 9.3 million viewers, becoming the highest-rated program of the night on both broadcast and specialty television. It was also the second highest-rated cable broadcast of 2009 to date (as of August 30, 2009). The show aired in the United Kingdom on October 2, 2009, as part of Disney Channel's "big five Friday" at 6:30pm. The Crossover premiered on Disney Channel Middle East on December 6, 2009 as part of the Christmas special and was watched by 400,000 viewers.
Cast
From Hannah Montana
Mitchell Musso as Oliver Oken
Jason Earles as Jackson Stewart
Moises Arias as Rico Suave
Billy Ray Cyrus as Robbie Stewart/Robbie Ray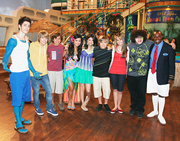 From Wizards of Waverly Place
Story
"Cast-Away (to Another Show)"
In the first crossover episode, "Cast Away (To Another Show)", Justin is excited to meet London Tipton when he wins the essay contest prize, a cruise on S.S. Tipton. Alex and Max get to go aboard too, where Alex bonds with new BFF Bailey but soon gets in hot water when she uses magic to bring Harper aboard. Meanwhile, Max and Zack compete in a series of outrageous challenges.
In the second crossover episode, "Double Crossed", Hannah Montana boards the S.S. Tipton on her way to a concert performance in Honolulu. To impress Bailey, Cody enlists Woody to help him get tickets. Meanwhile, the Russos use a little magic to spice up their vacations - Alex pulls a prank on Justin for which Mr. Moseby blames Zack, while Max introduces London to a magical suitcase.
This episode is also the first season finale of The Suite Life on Deck.
"Super(stitious) Girl"
In the third and final crossover episode, "Super(stitious) Girl", while on the ship deck, Miley loses the charm necklace that her mother gave her and when things start to go wrong, she is sure it's because she lost her lucky charm. Meanwhile, Cody tells Bailey that he has a close friendship with Hannah and promises great seats to her concert.
Theme Song
Main article: Wizards on Deck with Hannah Montana: Theme Song
This is the first episode crossover of Disney's that have a theme song; the theme is a remix enter "Everything Is Not That It Seems" (Wizards of Waverly Place Theme); "Livin' the Suite Life" (The Suite Life on Deck), and "The Best of Both Worlds" (Hannah Montana Theme).
See also