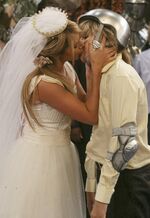 Zack and Maddie's relationship is a relationship between two of the main characters in The Suite Life of Zack & Cody. This relationship often consists of a younger Zack Martin flirting with the beautiful candy-counter girl at the Tipton, Maddie Fitzpatrick, despite an age difference (three years). Zack often calls Maddie "Sweet Thang", In the episode A Prom Story, Zack believes that Maddie wants to attend her high school prom with him because of her telling Carey that a certain boy is very sweet, but there is a three-year age difference. Zack becomes disappointed upon discovering the boy was Jeff, a senior at her high school, not him, although Jeff ends up upsetting Maddie. Maddie and Zack end up slow dancing together, and Maddie promises Zack that she'll dance with him at his prom if he dances with her at hers, however in the upcoming Suite Life on Deck episode Prom Night, his date ends up being Maya, a girl he met on the S.S. Tipton. Maddie comes on board the S.S. Tipton in The Suite Life on Deck episode Maddie on Deck, where a prince falls in love with Maddie. His royal herald asks her if he will go out with her and she says yes because he is a prince, however they discover he is an eight year old pain in the butt. He secretly proposes to her, although she doesn't know that is what he is doing, and Zack ends up saving her from her nightmarish marriage. At the end of the episode, they finally kiss, although they remain friends and Zack continues to flirt with various other girls that are guests on the S.S. Tipton, although eventually, he finds himself falling for Maya and eventually makes her his girlfriend.
Community content is available under
CC-BY-SA
unless otherwise noted.